Bihar DElEd 2020 Entrance Exam Fee Returning | Bihar D.El.Ed Combined Entrance Examination 2020 Examination Fee Refunded
Bihar DElEd 2020 Entrance Exam Fee Returning: Necessary official information regarding refund of examination fee of Bihar D.El.Ed Joint Entrance Examination 2020 22 has been published.Bihar deled fee refund 2021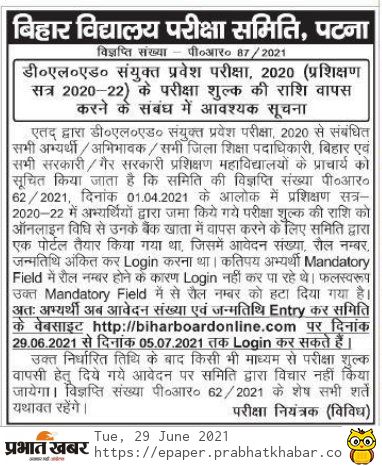 Bihar DElEd 2020 Entrance Exam Fee Returning
Due to the cancellation of the application for the Joint Entrance Examination 2020 to be held for enrollment in Bihar D.El.Ed training session 2020-22, the amount of examination fee deposited by the respective candidates will be refunded. Bihar deled exam form 2020 fee refund reopen | Bihar deled fee refund 2021 | Bihar deled|Bihar DElEd 2020 Entrance Exam Fee Returning
How will the exam fee be refunded (Bihar DElEd 2020 Entrance Exam Fee Returning)
A portal has been prepared by Bihar Vidyalaya Examination Committee to return this amount of examination fee to the bank account of the candidates online. On which the candidates will upload their details in the following way.
1. Go to the Bihar Vidyalaya Examination Committee website biharboardonline.com
2. Click on Grievance
3. Click on the registration form for deled Joint Exam 2020 payment refund,
after which the candidates adopt the following steps
1. Login by filling the application number, roll number, date of birth
2. After logging in, the candidate should upload his / her name, father's name, date of birth, full permanent address, mobile number, email ID, bank name, account number, and upload IFSC Code
. Upload the photocopy or registration slip of the
candidate. 4. Canceled check of the candidate's name itself or a readable scand copy (pdf) of the first page of the bank passbook on which the candidate's name, account number, bank stamp, and signature are uploaded
Note:
Candidates should upload all the details of the said killed correctly, if there is any mistake then the portal will not open for rectification again.
Bihar DElEd 2020 Entrance Exam Fee Returning Date
Candidates submitting the online application form for Bihar D.El.Ed Combined Entrance Examination 2020 from the date 5 April 2021 pm to 11 April 2021 pm, their details through online on the committee's website Bihar Board Online.com Will be able to upload
Online application will not be accepted for refund of examination fee by any means after the due date.
Friends, the hard work and vigilance of all of you have been very helpful in returning the amount of Bihar D.El.Ed Joint Entrance Examination Fee.
For any correct and accurate updates related to DLED, please join our Telegram Group.
| | |
| --- | --- |
| Home Page | Click Here |
| Online Apply | Activated |
| Bihar Board Result 2021 Class 10 | Bihar Board Metric Result 2021 | Click Here |
| Magadh University Part 1 Result 2021:How To Check BA, B.Com & B.Sc Result 2021 | Click Here |
| PNB Bank Sweeper Vacancy Offline Apply 2021 | Click Here |
| Bihar Board 12th Scrutiny Apply Online 2021 | BSEB Scrutiny 2021: Apply Online Scrutiny Direct Link | Click Here |
Read More:-
Bihar deled exam form 2020 fee refund reopen
Bihar deled fee refund 2021
Bihar deled
digital Rajeev
deled
bihar deled exam fee return
Bihar d.el.ed fee money return
Bihar board deled fee refund
bihar d.el.ed admission 2020
bihar board deled
free refund bihar deled
deled bihar
bihar d.el.ed entrance form fee return
deled fee refund online link
fee refund deled
deled fee refund online
bihar d.el.ed entrance exam form fee return
bihar d.el.ed fee return
bihar
#bihar_deled_exam_form_fee_refund #deled_fee_refund_2021